Welcome, Ismet!
We would like to introduce you to Ismet Can Yildirim. This 23-year-old from Deventer signed his employment contract with Recentes yesterday. He will start with us in September as an assistant business analyst.
Ismet started his educational financial career at Aventus and is now completing his Finance & Control course at Saxion University of Applied Sciences, after a switch from Accountancy. Which new project he will start on remains a surprise.
Welcome to team Recentes, Ismet. We look forward to seeing you in September!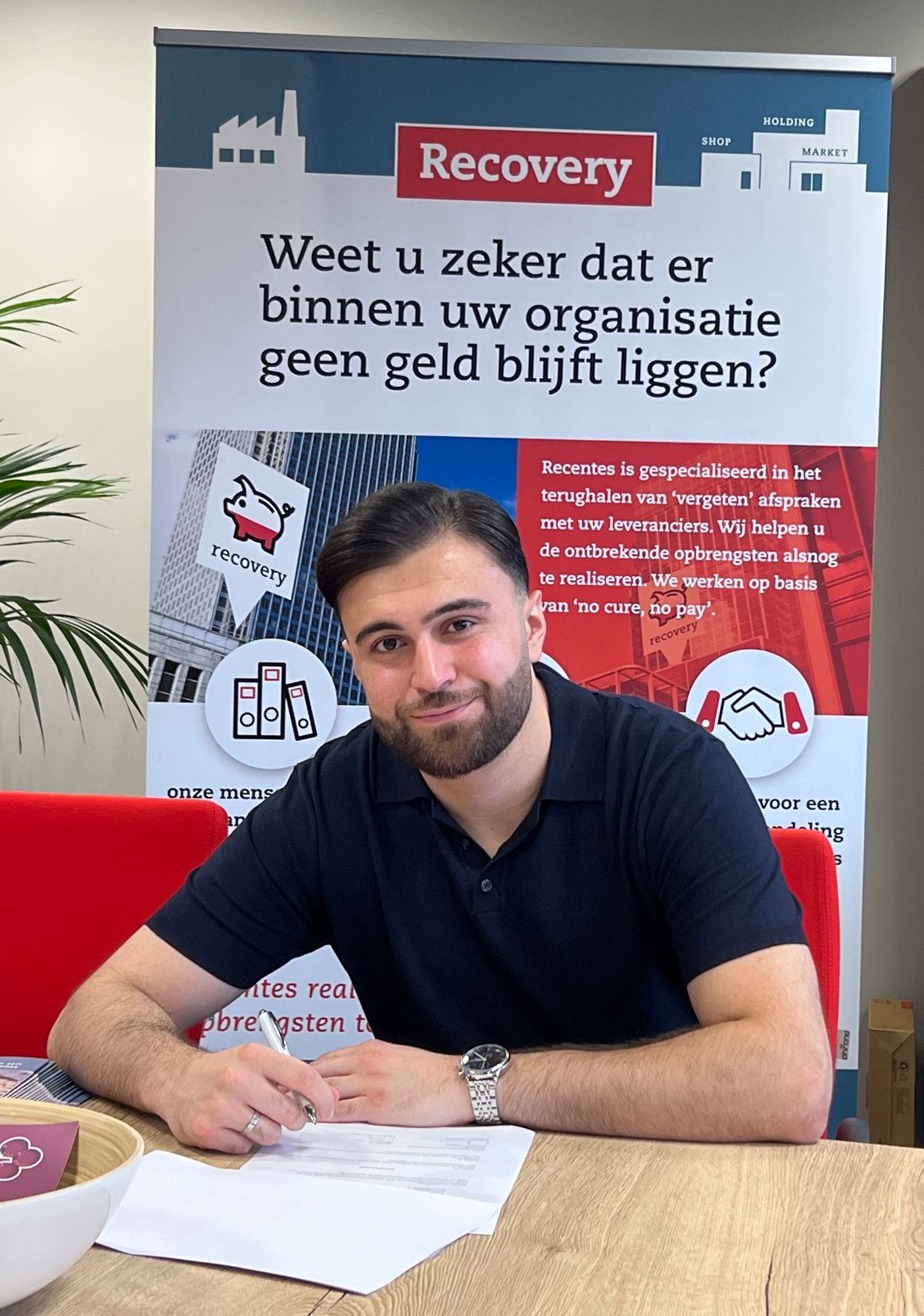 Rik de Vries strengthens Recentes
Rik de Vries strengthens Team Recentes as of today. Rik, born and raised in Friesland, is a controller & consultant with a commercial drive. His first work experience was at USG Finance professionals where he had various assignments at Ordina, Gemeente Utrecht and Jumbo. He eventually joined Jumbo as a purchasing controller, where he contributed to the purchasing integration of Super de Boer and C1000.
He completed the study Controlling at the NHL; his title Managerial Controlling via Nyenrode. Since Rik started as a self-employed person in 2015, he has worked for international companies such as Kinepolis and Adama Ltd. The common goal in his assignments has always been to make Sales/Purchasing data driven by developing BI tools and the right KPIs.
Rik does not shy away from a challenge with his statement 'A positive attitude leads to positive actions'. In his assignments he always has the motto: no result, no reward. He likes to make sure that both Recentes and future business partners see results. In addition to result-driven, analytical and decisive, he is energetic, eager to learn ánd a team player.
Welcome to Team Recentes, Rik!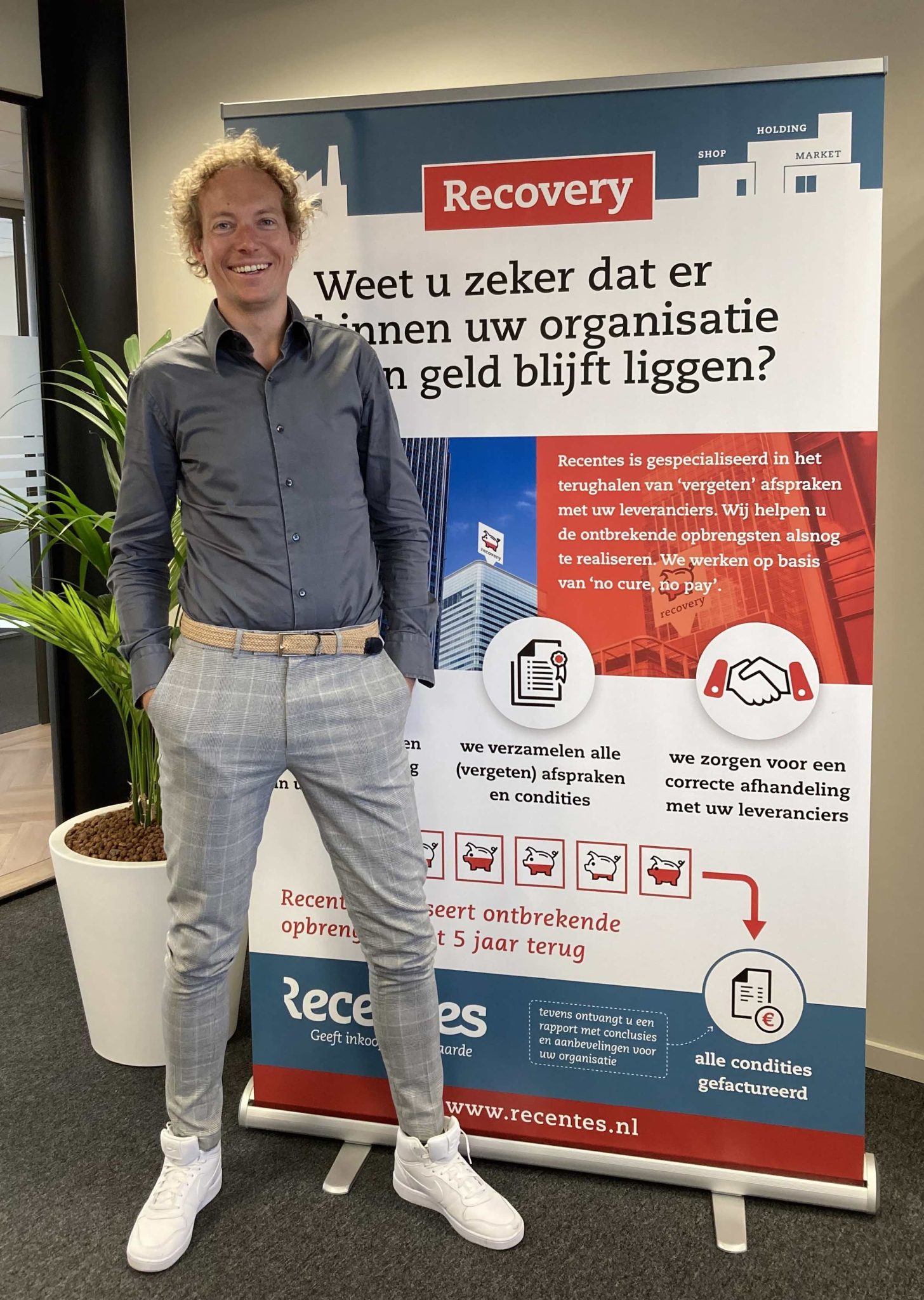 Guest lectures in Deventer and Enschede
Last week Jaap, Joris and Manon gave guest lectures at Saxion University of Applied Sciences. At two different locations: Deventer and Enschede. The second-year Finance & Control students enthusiastically set to work on a concrete Recentes case. Contracts, purchasing data in Excel and… puzzle!
Manon and Joris, just like Jaap, use their financial knowledge on a daily basis to expose missed income at Recentes customers. With great pleasure (and talent) they shared their practical experiences with the students.
Students, our compliments! We are pleased with your commitment and enthusiasm. You have discovered many errors! The prize for the best elaboration went to Lotte Leferink, Quinten Becks, Ivar te Molder, Lars Nijmeijer, Jennifer Otten, Bart Borgelink, Tiemen Haafkes and Demian Zonneveld. It was nice being with you. Will you also visit us in Apeldoorn?
Thanks to teachers Rik Teunissen, Anouk van den Hoeven and Jan Noeverman. Of course you are also very welcome with us, in The Mixer, in Apeldoorn. We look forward to further cooperation!
Recentes is expanding!
Recently both Anil Iyigun and Nick Henriquez started as assistant business analysts at Recentes. Welcome!
Anil ('optimistic, loyal, result-oriented and adventurous') immediately started working on a very nice project for FrieslandCampina. Nick ('eager to learn, helpful, examined, accurate and structured') uses his knowledge and skills for his first assignment: Bunzl.
Have fun and good luck in our team!
We also found these finance professionals through Talent in Control (Remon Bomhof and Rick van Regteren). Who follows?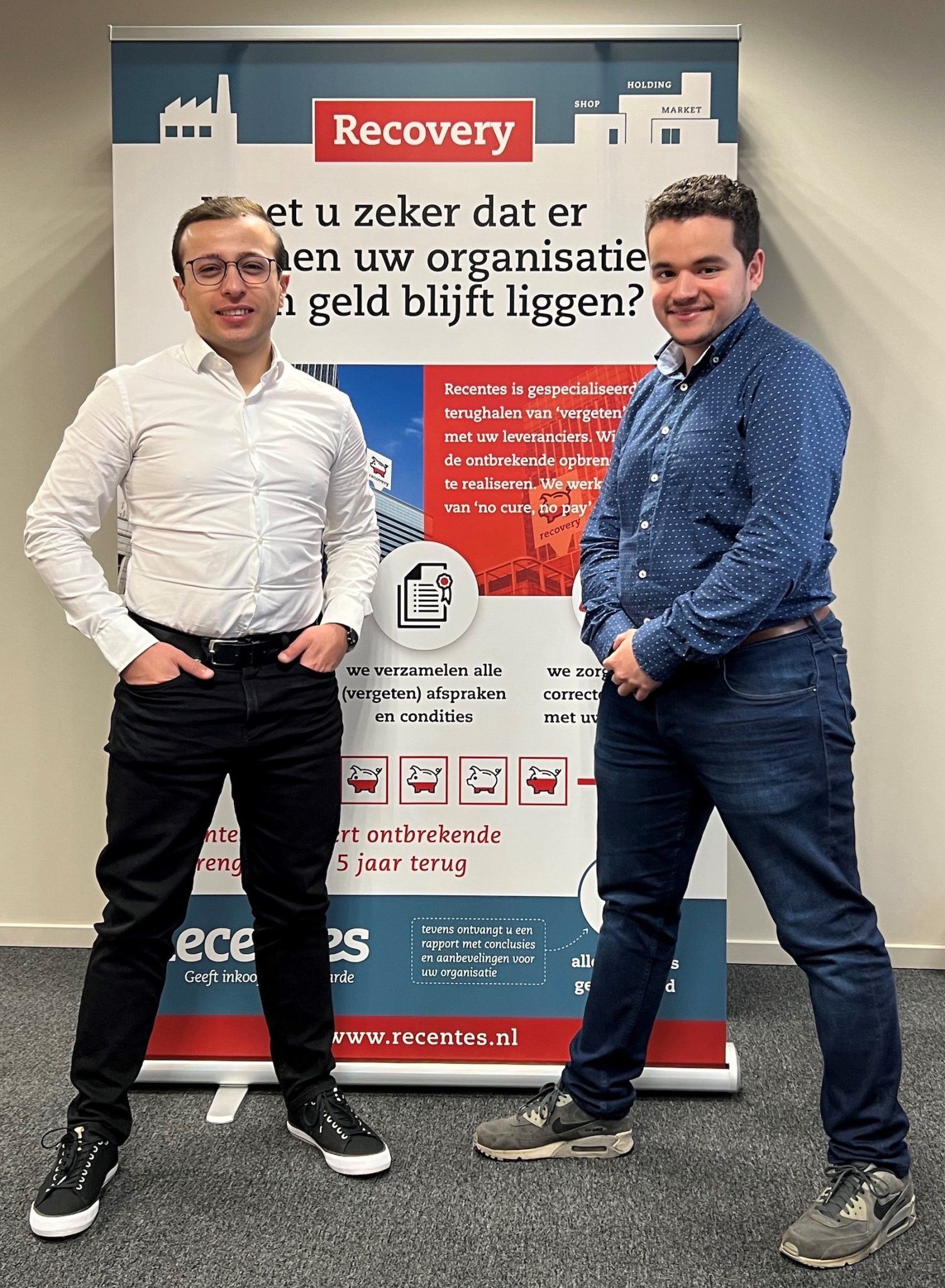 The time has (almost) come: Recentes is 10 years old!
Our pension advisors, Peter Akkerman and Gerben van den Broek (Akkerman Pensioenadviesbureau B.V.), have just brought us a 'Spakenburg Heart' to congratulate us!
What a nice surprise, and how thoughtful. Thanks guys! We're going to share it!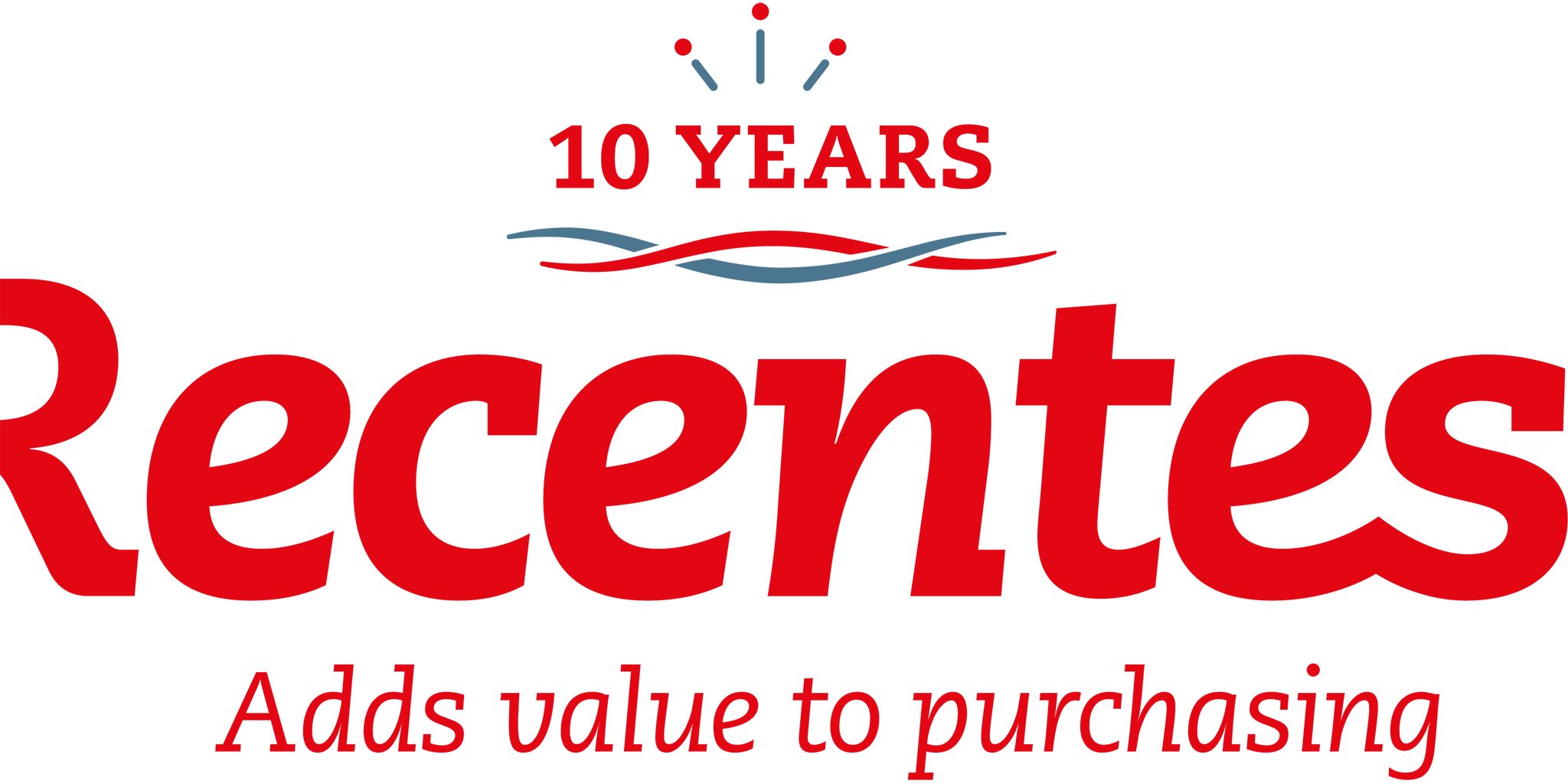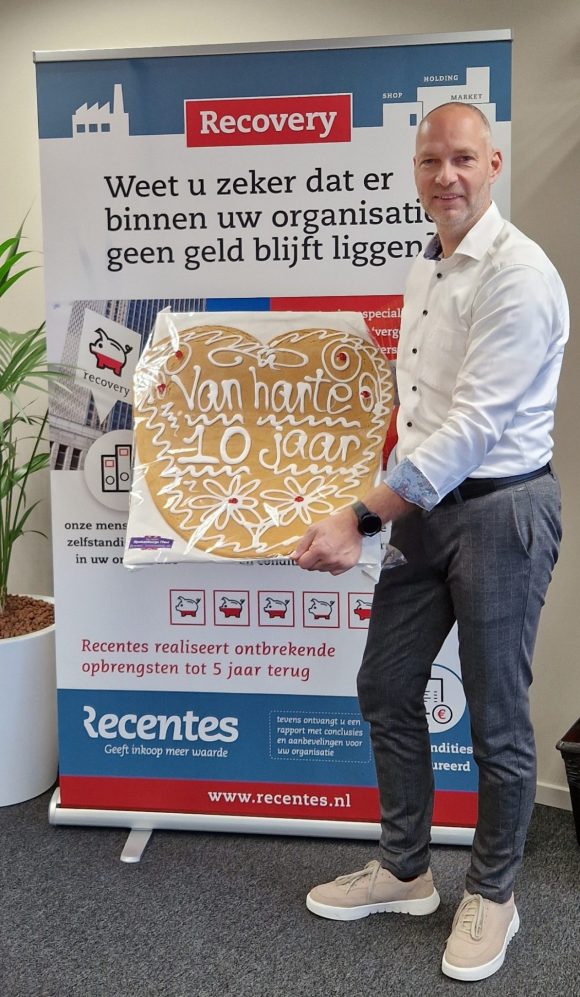 Recentes is expanding!
This week Wesley Put started as an assistant business analyst at Recentes. He will strengthen the team working for Intratuin. Wesley is eager to learn, performance-oriented, focused and creative. A perfect match!
Wesley, welcome. Have fun and good luck in our team!
Remon Bomhof and Rick van Regteren (Talent in Control), again many thanks for finding our newest financial talent!
Would you like to know more about working at Recentes?
Read more on our website or contact Talent in Control directly.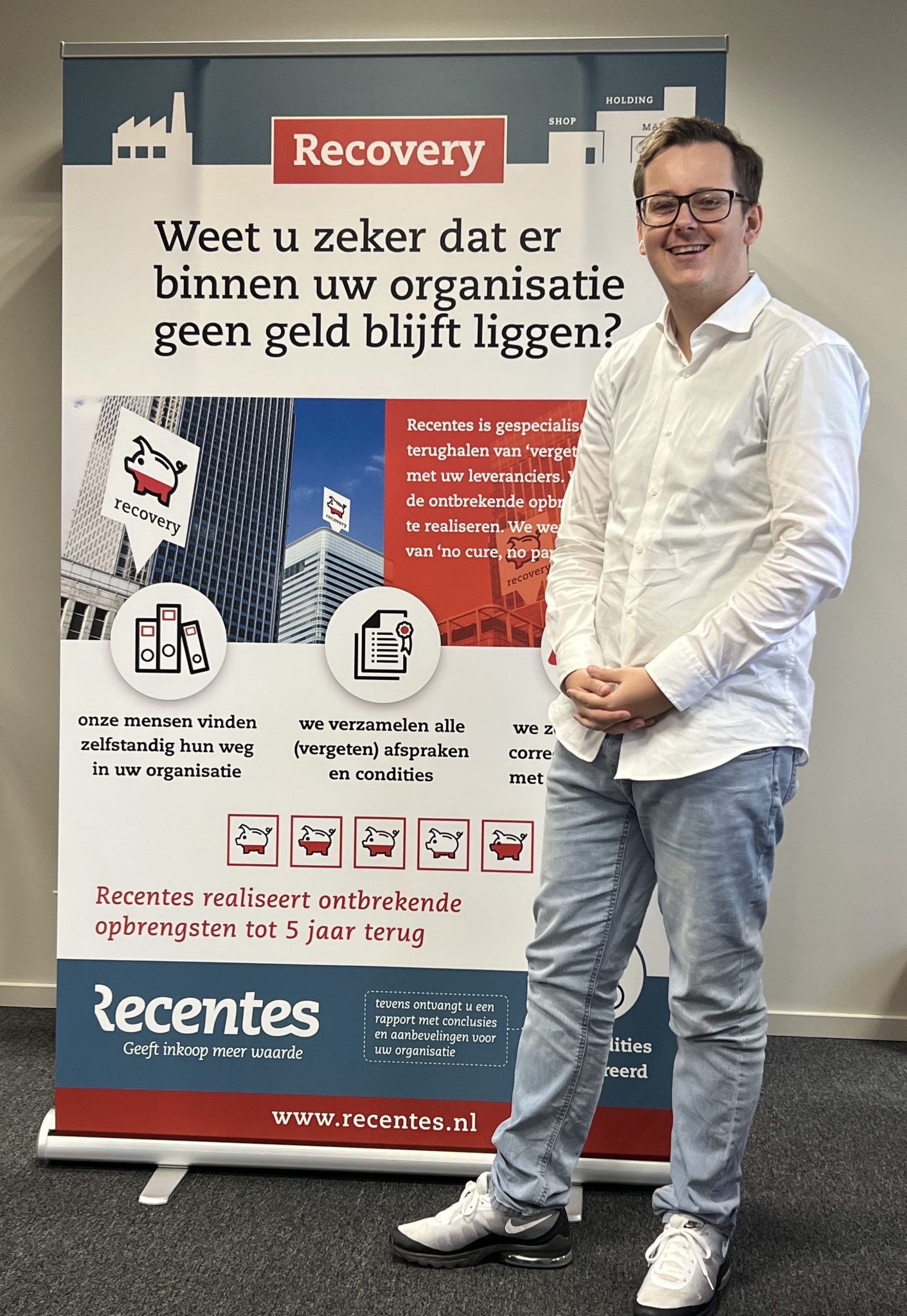 Recentes is 10 years old this year!
Recentes is 10 years old this year! How proud and grateful we are. We would like to thank everyone who has played a part in the existence and success of Recentes. Thank you employees, former employees, clients, suppliers and all the people we have worked with. Without you Recentes would not have been what it is today.
Klaas Ruizendaal | Robert Segaar | Jaap Wieman | Team Recentes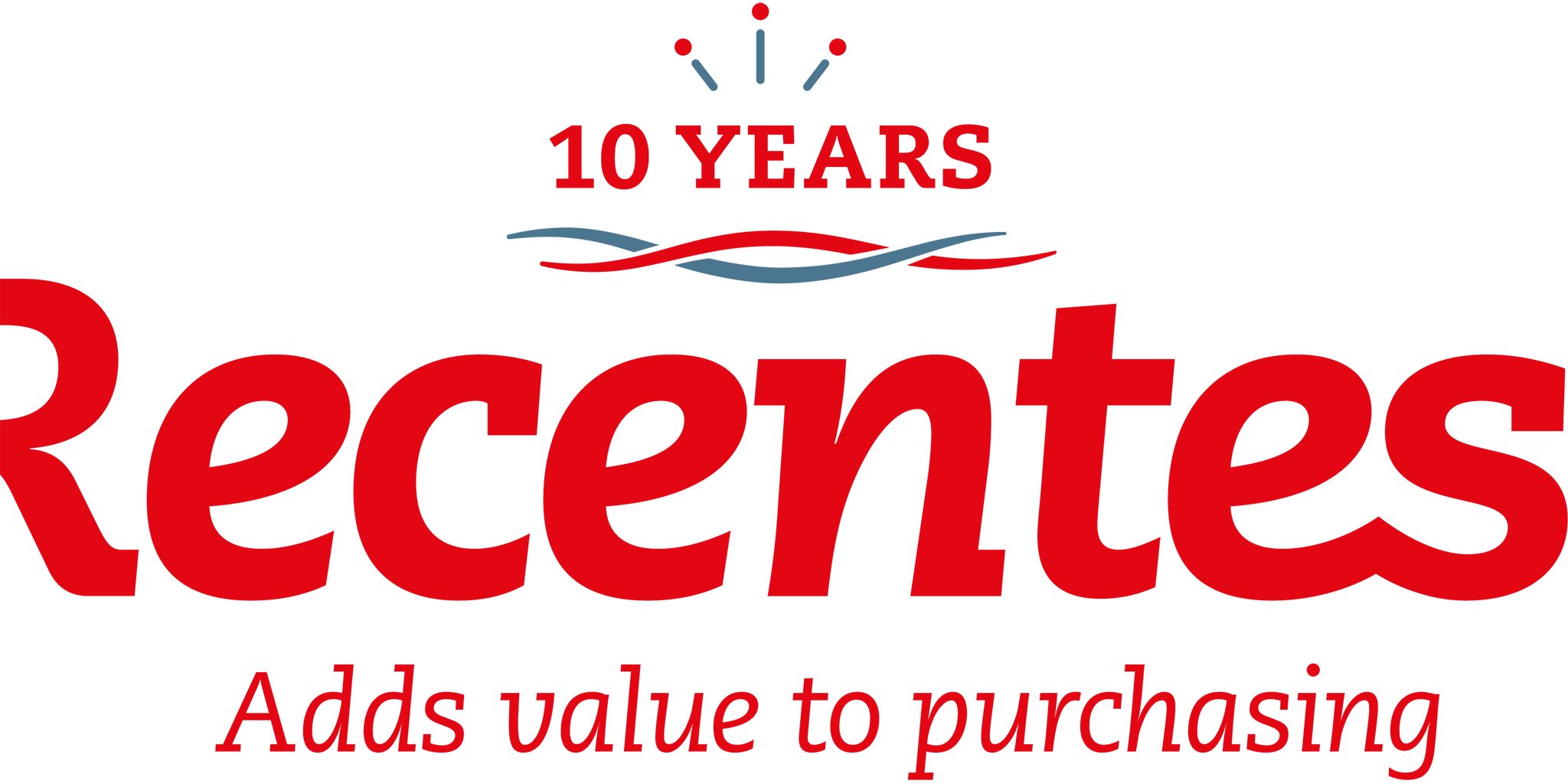 Recents has moved!
Recents has moved! As of today, the Recentes team has a new location. From now on we work in The Mixer, an office concept in the business district of Apeldoorn South. It is a modern, professional environment close to the A1. 'A place where everything comes together.'
The building is fully equipped for work, meetings, exercise and relaxation. A perfect workplace for our team, centrally located and easily accessible. And, not unimportant, we have enough space for our football table;-)
We 'live' on the first floor of the building; there we have a few nice spaces to work, meet and have lunch. Although we probably regularly have lunch in the company restaurant, which is run by people with intellectual disabilities and their supervisors.

We are excited!
Team Recentes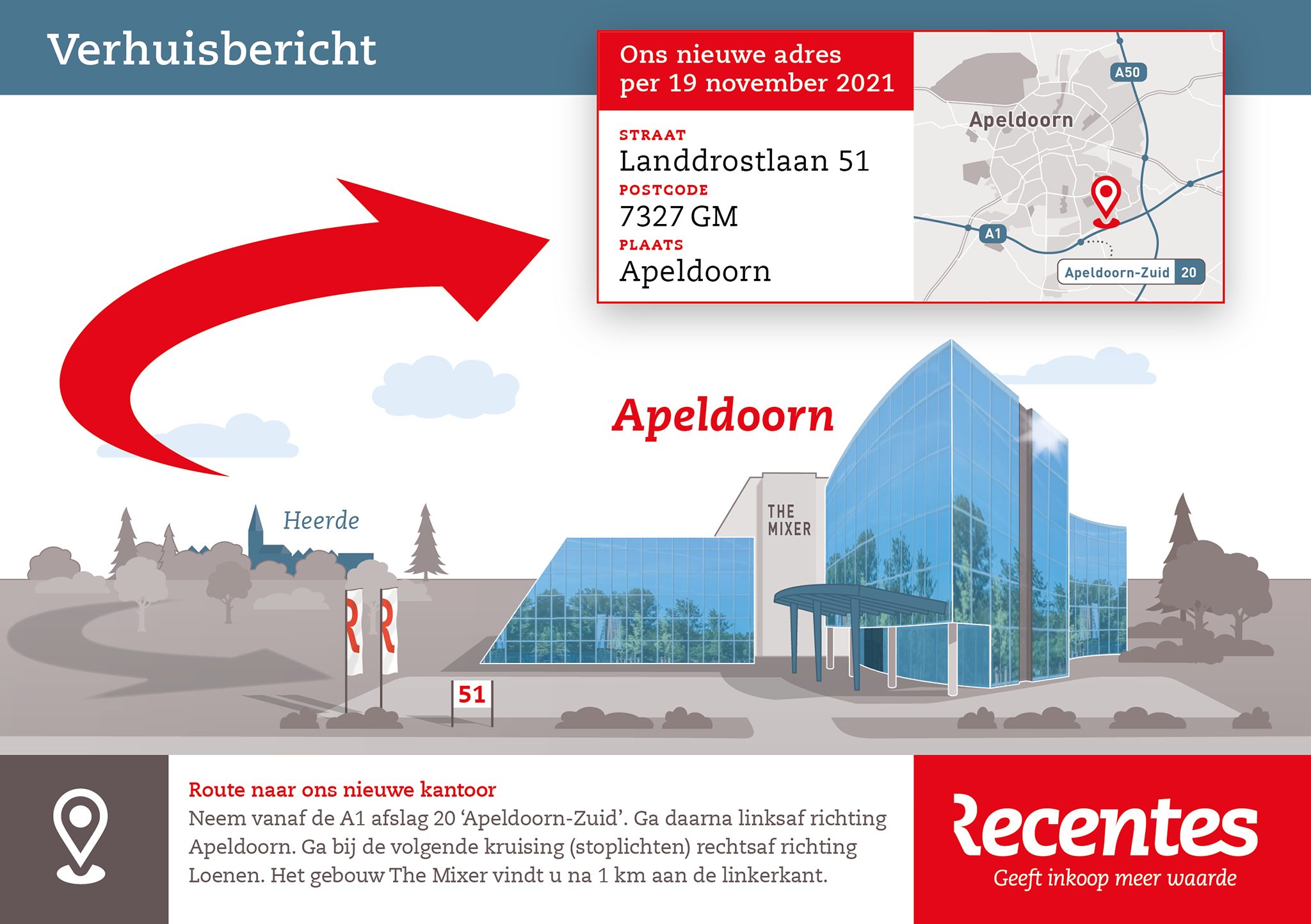 A very deserved Christmas package
Yesterday we surprised our employees at home with a well-deserved Christmas package. The whole team works from home and we only see each other digitally. We still wanted to deliver the Christmas package personally. And that had to be captured in print;-)


Colleagues, thank you for your efforts! We wish you very nice days and hope to see you again in real life soon.
Robert, Klaas and Jaap.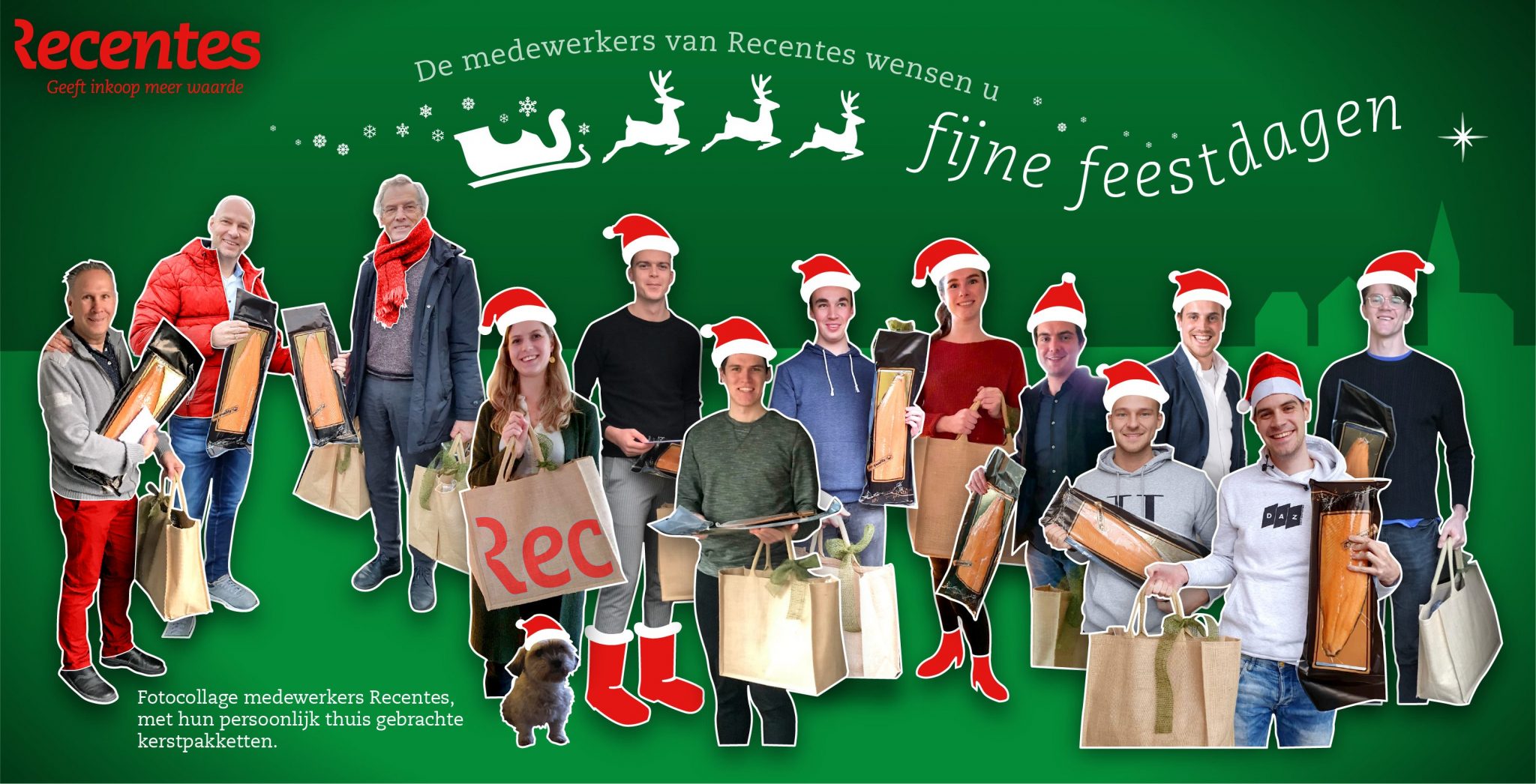 *The Recentes employees wish you happy holidays. Photo collage employees of Recentes, with their Christmas packages (delivered personally at home).