Recentes worldwide!
As experts in procurement controlling we are expanding in global recovery of supplier conditions. In our projects we have cooperated with procurement departments in Europe, Near East, Russia and Asia. During our 6 years we have recovered more than Euro 15.000.000,- for our customers.
No cure, no pay
Are you looking for a no cure, no pay recovery on your supplier conditions? A cleanup of your A/P position? A fresh look at your purchase processes? Perhaps our GRIP software for supplier condition management?
Contact us for a discrete, but inspiring call.

Jaap Wieman +31 6 49 61 42 31
The time has come: GRIP 1.0 is here!
After two years of intensive preparations and construction, the time has come: we can announce that GRIP 1.0 is ready! As developers and builders of this software package, we're proud of our achievement. We'd like to thank everyone who collaborated in completing this package. On behalf of us all: thank you!
Could GRIP offer a solution for your organisation?
GRIP is the software package for management of purchasing contracts and purchasing conditions, ideal for Retail, Wholesale and Industry. GRIP helps you manage contracts and calculate income from bonuses, for example. The package offers invoicing, prognoses and analyses to support your control and decision-making processes.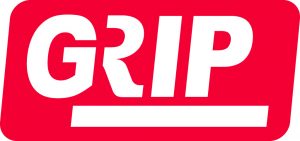 Would you like to know more about GRIP?
The (Dutch) brochure 'GRIP software: a vital link in your purchasing organisation' gives more information. If you'd like to receive this brochure, please contact Klaas Ruizendaal (Recentes) or Mike Snepvangers (AXI). The brochure will soon be heading your way! (Soon available in English)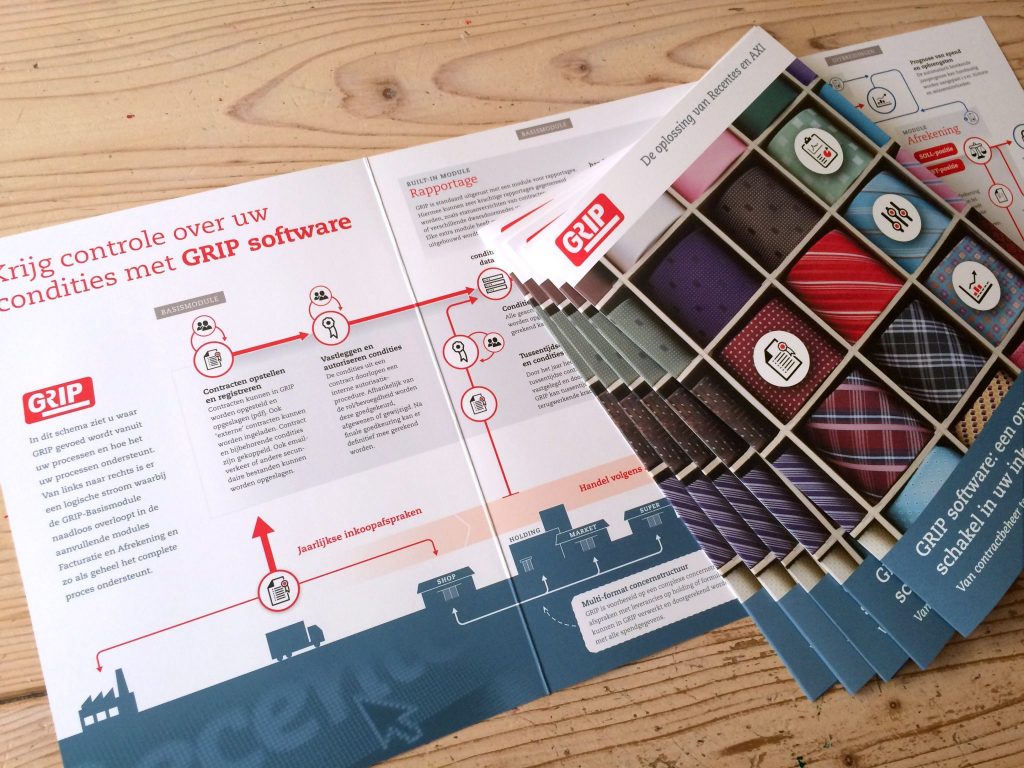 My first 100 days
It's been a hundred days since I, Kaj Rosink, started work at Recentes: a great moment to reflect on how this first period went.
The initial days were pretty overwhelming, as my first working week was spent on a visit to Germany together with my colleagues Jaap Wieman and Robert Segaar. They were long days, whereby my work mainly consisted of requesting statements of outstanding items from suppliers' debtor administration and checking them against our own administration.
The subsequent weeks were mainly spent at FrieslandCampina in Amersfoort. Here, I began following up on the work which had been initiated during our visit to Germany. The first results soon began to materialise and I was able to book my first (tiny) success.
As time went by, I was assigned more and more diverse jobs: examining contracts for bonus agreements, calculating any agreements I discovered and actually establishing contact with the suppliers in order to render the files complete. It quickly became clear how many different methods exist for retrospective settlement with suppliers.
While many of these settlement processes work well, there are still plenty of cases requiring investigation, caused either by personnel changes, the lack of relevant documentation or suppliers failing to provide information, consciously or otherwise.
I therefore still have plenty of work on my plate for the period to come. There may also be further opportunities for visits (abroad) in search of extra information.
In other words: there's plenty of investigation work for me at Recentes for the next hundred days too. To be continued!
'Invoicing simply isn't our core business'
Comprehensiveness of invoicing is overlooked at many companies. 'We earn our money at the cash tills in the stores,' says Dirk van der Werff, group control director of Maxeda DIY. 'Primarily, we play the retail game. In doing so, we often reach agreements with suppliers that once certain volumes are reached, certain benefits are to be gained. We suspected that there was unclaimed value in there somewhere.
'We felt that the invoicing of our suppliers was not fully comprehensive and certain benefits that we had agreed with our suppliers were not being invoiced,' says Dirk van der Werff, group control director of Maxeda DIY Group. 'Invoicing simply isn't our core business. We earn our money at the cash tills in the stores. Comprehensiveness of invoicing is a sideline.'
Additional invoicing
'And so we arranged for a recovery audit,' Van der Werff continues. 'We had a specialised party check the comprehensiveness of our purchasing bonuses invoicing. We requested that they establish the connection between registration of our purchasing contracts and the invoicing process in order to check whether it was complete. The Recentes recovery team checked the contracts up to five years back, to evaluate our invoicing entitlements, and used downloads of invoices to determine whether everything had indeed been invoiced. It was all done manually. As we suspected, not everything was complete. We then discussed the situation, both with Recentes and with our suppliers. In certain cases, this resulted in additional invoicing.'
Eye for the relationship with the supplier
'What the recovery team did really well,' says Van der Werff, 'is that they worked with an eye for our interests, but also for the relationship with the supplier. Sometimes the contract contains certain conditions which you would actually rather change, for certain reasons. When working on the basis of no cure, no pay, you might expect the emphasis of the recovery to be on maximum possible invoicing, but that was certainly not the case. Instead, we had effective ongoing consultations about the best possible approach. After all, it's not always easy to present a third party with an additional invoice at a later date.'
Van der Werff continues: 'Recentes also advised us on how to register this more effectively in the future. As a result, we have now implemented a contracts database tool in the Netherlands, which we already used in Belgium. A simple press of a button now suffices to check whether we are up-to-date with invoicing all our agreements with suppliers.'
Workflow tool for contract management
'Our Belgian colleagues already had a workflow tool for contract management,' says Van der Werff. 'While the tool may look old fashioned, it has state-of-the-art capabilities. This tool ensures that contracts are signed digitally, that the purchasing value is agreed with the suppliers and that invoicing takes place using the system. The recovery team also conducted an audit in Belgium, where they found very little opportunity for improvement. We have therefore introduced this tool throughout the company now. In principle, we already apply identical systems in all countries, using the same cash till systems everywhere for example. That simplified the implementation process.'
Special cases
Contract management still needed to be effectively arranged in the Netherlands. 'SAP, with which we work, apparently has a tool,' says Van der Werff. 'But there's nobody on the market offering a total solution. Yet it concerns a substantial component of our results. When a contract condition requires a certain performance in return, somebody needs to signal once the performance is complete, so that invoicing can take place. And that was sometimes forgotten in the past.' 'A buyer might agree with a supplier that we receive a bonus if they are allowed to introduce fifty new products. Once those fifty products have been introduced, the buyer needs to inform us that an invoice can be sent. There was room for improvement in these types of special cases.'
Although this does not concern the lion's share of the purchasing benefits of the DIY retailer, considering the amounts involved, asking someone to check them is certainly worthwhile. 'SAP does send invoices for 'standard' purchasing benefits,' adds Van der Werff.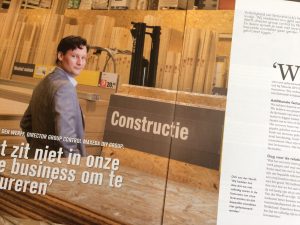 Redefining contracts
Besides implementing the tool, the contracts themselves have also been redefined, explains Van der Werff. 'We now try to avoid the situation whereby we must manually detect any performance to be supplied by us. We now invoice certain amounts at certain times. That makes the system simpler. Even if that entails a certain performance: once it has been invoiced, at least you have started a dialogue with the supplier. It's also tricky to have the system automatically detect purchasing benefits when these only concern specific components. For example: an agreement regarding white paint with a certain supplier. It's much easier to agree on a percentage for the entire range. You can make a reasonable estimation of the percentage of white paint you sell, and then automatically invoice that. We're now making changes in relation to these two aspects. But it will always be part of a commercial agreement of course.'
Central team
Reaching agreements with suppliers is of course mainly the domain of the buyers. How have the latter been included in the process? 'Establishing contracts with suppliers has now become largely standardised. And where there is no standardisation, a special team makes the agreements. They have an umbrella function for all categories and have been given more and more responsibility over the years,' explains Van der Werff. 'The combination of more standardisation and having a central team, has helped us achieve a more uniform system. That's more effective.'
Recognise the signals
'We're making good progress,' says Van der Werff. 'However, it's still tricky to get a grip on the agreements for a certain brand that is featured in a brochure, for example. If a brand is advertised in a brochure, the supplier pays a certain amount. But that amount varies depending on the type of exposure. This makes it complicated to get an effective grip on things. What we would still like to learn is to look carefully at cases of individual agreements and minimise them as much as possible. But on the whole, I believe we've come a long way. Of course invoicing simply isn't our core business. I can, however, recognise the signals nowadays. Wherever I am, I'm immediately aware of how well organised it is.'
Maxeda DIY Group is market leader on the Benelux DIY market, with close to 400 stores and more than 7000 employees. There are 4 DIY chains: Praxis and Formido in the Netherlands, Brico in Belgium and Luxembourg, and BricoPlanit in Belgium. Most of the stores have a floor space of 3,000-5,000 m² and work under the names of Praxis in the Netherlands (153 stores) and Brico in Belgium (148 stores).
Dirk van der Werff (aged 35) studied economics at Groningen University, and is an RA and RC (VU University). As group control director, he is responsible for the central business and financial control activities. Van der Werff has been with the Maxeda DIY Group for 6.5 years, following 5 years as an accountant at KPMG. He is married and has 2 children.
Also read: Actually achieving agreed conditions, is that your top priority too?
8 June 2018 by Anja Jalink
This article was published in CM: 2018, edition 5
Actually achieving agreed conditions, is that your top priority too?
By now, most organisations have made considerable progress in the automation of processes, such as P-to-P, e-invoicing and EDI messaging. However, the way in which organisations register their supplier contracts often lags behind. They also sometimes lack insight into the agreements based on these supplier contracts.
Contract and condition management is extraordinarily relevant in most purchasing organisations and departments. There are even sectors in which operating results are significantly dictated by the supplier conditions. It is precisely in those organisations that you would expect realisation of the agreed conditions to have top priority and to be well organised. In practice however, this is not always the case.
Considerable 'profits to be made'
Research and experience shows that there may be significant deviations between the supplier income actually achieved and the amounts to which companies are actually entitled according to the conditions, in both (very) large and medium-sized companies. While it is evident from this experience that many aspects are well organised, it is equally clear that considerable profits can be made around the conclusion of supplier agreements. In recent years, many organisations have been able to cash in on more than thirteen million euros of unclaimed purchasing conditions after all. Per organisation, this translated into 2 to 9 percent of the total supplier income over a 5-year period. This has a significant impact on the operating results!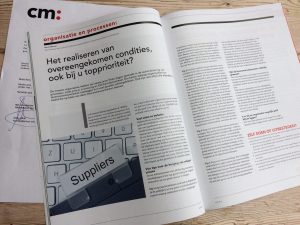 4 tips for safeguarding a robust process
In creating a robust process for settlement of supplier contributions, it is extremely important to effectively safeguard the following elements.
Tip 1
Register (annual) contracts centrally and digitally. In practice, contracts are registered in many different ways. Many contracts are not centrally and digitally archived in a contracts database. They sometimes quite simply sit in a file in a cabinet. Supplier contracts are managed by the parties who organise them to start with, often the responsible buyer, within many organisations. Very few people are then aware of the content of such contracts, outside of the contract manager.
Tip 2
Provide access to conditions of annual contracts and temporary deals. It should be standard procedure to access the conditions registered in the contracts, in order to enable monitoring and control of the value represented by those contracts. It is imperative that this information is accessible, but unfortunately this is often not the case. The conditions are often managed by the parties who enter into the contracts to start with. There is no central insight into the conditions and into the value they represent. It then becomes tricky to guarantee the comprehensiveness of the supplier income. Companies are even more likely to lose sight of temporary agreements, as compared with their annual agreements. Such temporary agreements are often reached between buyers and suppliers via e-mail. Very few people are privy to the ins and outs of these deals. As long as these e-mail agreements are not archived centrally, there is a great risk of no settlement taking place with the supplier in the end. The risk is further enhanced by personnel mutations, which are surprisingly common.
Tip 3
Ensure reliable internal spend reports. A good spend report – which articles/brands have we purchased from which suppliers at what price? – is essential in order to pass on the correct amounts to the supplier. Even when the supplier sends a credit note for the amounts payable, a good internal spend report is vital. After all, suppliers can make mistakes, consciously or otherwise, in the amounts to be settled.
Tip 4
Ensure job delineation. It is important to distinguish between the responsibilities within management, control and functional positions. Within an organisation, a buyer may be responsible for concluding contracts and deals with the suppliers, and for issuing invoicing assignments to the administrative department. This makes a single person responsible for many different tasks and responsibilities, with all the inherent risks. While there is not only a serious risk of the amounts to be invoiced being 'forgotten', this situation also does not exactly hinder the transfer of results between the various years. Buyers are commercial after all, and are often faced with bonus-related targets. Once this year's target has been achieved, it is very tempting to transfer part of this year's conditions yet to be invoiced, to next year.
Is the supplier income complete?
Many organisations struggle to estimate how complete the supplier income has been in the past. It is after all tricky to estimate something in which you have no insight. Organisations often rely on the supplier income achieved in relation to the development of the purchase value, as a form of monitoring the comprehensiveness. If it was 2 percent last year and is now 2.2 percent, all would seem well. However, if the conditions were already out of sight in previous years, there is little chance of them now being visible. And so the supply income is still incomplete.
Could your organisation be neglecting money?
As a quick check of whether or not money has been neglected somewhere, you can either conduct your own random test or call in a specialised company to conduct a quick scan. Using a number of specific process and accounting analyses and random tests, you gain a picture of the strengths and weaknesses in the process. An estimation is made of the risk of money having been neglected. If that proves to be the case, a recovery project may be worthwhile.
The 6 steps of a Recovery project
Before initiating a recovery project, it is important to communicate the great need for everyone to fully cooperate, within the organisation. The project is aimed at gaining certainty regarding the comprehensiveness of supplier income, while improving the internal processes. 'Naming and shaming' is certainly not the intention. When executed in this manner, the necessary information will be obtained.
Step 1 Render all contracts visible
All contracts concluded over the past 5 years (maximum) must first be rendered visible; this is the statutory limitation period applicable in the Netherlands. This can require some serious searching in some cases. Contracts may be stored at various locations. Cabinets, digital archives, any other methods in use at an organisation (or previously used over the past 5 years).
Step 2 Distil all relevant conditions from the contracts
All the conditions can now be distilled from these contracts, which may result in entitlement to financial compensation from a supplier. All these conditions are registered in a database. It is essential to also gain insight into any temporary deals. A complicating factor is that these temporary deals are often agreed between buyers and suppliers via e-mail and are therefore not centrally archived. A tool can possibly be deployed for this purpose, depending on the organisation's internal policy. This tool checks mailboxes, providing insight into any relevant deals.
Step 3 Determine the relevant spend per supplier
The relevant spend per supplier can then be determined. The total claim is then calculated per supplier, based on the spend and the conditions. And so the REQUIRED position per supplier becomes visible.
Step 4 Determine the actual amounts received
The financial administration then serves as the source of determining the ACTUAL position per supplier, based on the amounts actually received.
Step 5 Analyse the comprehensiveness
This preparatory work is followed by the actual analysis. At the invoicing level, the received/invoiced amounts are linked to the conditions and the comprehensiveness of the conditions received is assessed.
Step 6 Talk to the suppliers
Contact is sought with those suppliers with whom there has not been full settlement. This contact with the supplier should preferably not be left to the buyer, but should rather be undertaken by someone from the project team. This is important in order to keep the lines clean and not to have any impact on the relationship between the buyer and the supplier in question.
Great degree of discipline
A recovery project is a (labour) intensive process: large numbers of contracts and conditions are assessed in detail as to whether the settlements have been comprehensive. Checking the very first condition is just as important as checking the very last. That requires a great degree of discipline in the work. A recovery at a medium to large organisation will take a number of man years – 2.5 to 3 years is no exception.
DIY or contracting out?
There are a number of reasons not to conduct a recovery yourself, but rather to call in a specialised agency:
if the recovery must be conducted by the same people who are normally also responsible for the settlements, this creates a situation akin to a butcher having to inspect his own meat;
a recovery requires more capacity than is internally available;
specialised people know what they are looking for and ask the right questions;
there is no financial risk if the agency works on the basis of no cure or no pay;
a final report is absolutely vital in such a recovery project. This is a valuable document, full of findings and recommendations, intended to fine-tune internal processes.
Self-management of purchasing conditions
There are a number of tools available on the market for organisations looking to truly make progress in the management of their purchasing conditions. These tools include a contracts database, where all concluded contracts and their conditions are registered. Some tools have an interface with which the spend data can be input from an ERP system, for example. The system can then determine the claims at the supplier level, based on the registered conditions and spend data.
Also read: Dirk van der Werff, group control director of Maxeda DIY Group: 'Invoicing simply isn't our core business'
Author: Gerrit Eikenaar Gerrit Eikenaar MSc is a partner at Recentes, specialised in supplier conditions and conditions systems.
This article was published in CM: 2018, edition 5
Article in CM Magazine on supplier conditions
'In recent years, most organisations have made considerable progress in the automation of processes, such as P-to-P, e-invoicing and EDI messaging. However, the way in which organisations register their supplier contracts often lags behind. They often also lack insight into the agreements based on these supplier contracts.'
This is the introduction by Gerrit Eikenaar for his article 'Actually achieving agreed conditions, is that your top priority too?' written for CM Magazine (edition 5). The article includes four tips with which to safeguard a robust process and the six steps of a recovery project.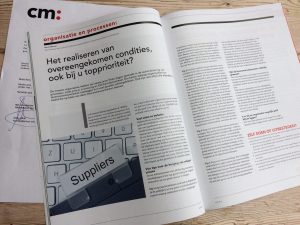 The article includes an interview with Dirk van der Werff, business control director at Maxeda DIY Group, one of Recentes' recovery clients. Dirk was interviewed by Anja Jalink, editor-in-chief of CM Magazine: he gives his view of our project and outlines the benefits for Maxeda DIY.
Are you interested in the article? You can read it here
If, after reading the article, you would like to meet with Recentes to exchange ideas on your supplier contracts and conditions, feel free to contact us. We'll be pleased to discuss the ins and outs of these processes within your organisation with you.
Recentes goes international!
As a CFO or Procurement Director you may be looking for help to secure your procurement revenu. As controlling experts in this area we like to help.
In both Retail and Industry we have an extensive and international experience.
Recovery, war room implementation, controlling the negotiations, process upgrades… we know it all.
We will gladly send you our English brochure about our approach of recovery projects in purchasing conditions. Just send an e-mail to jaap.wieman@recentes.nl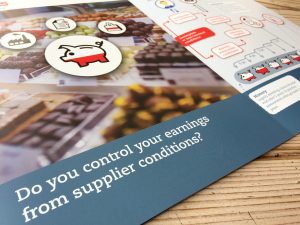 Step forward for purchasing thanks to GRIP conditions management system
Supplier contracts. We all have them. But do we still have them under control? And most importantly: who monitors the conditions which have been agreed? Bonuses, media contributions, special offers, payment discounts. Many organisations have been missing out, simply because of the lack of an effective market product for management of supplier conditions. GRIP can now put an end to all that. A software package that registers, calculates and invoices conditions to suppliers.
Supplier contracts are one thing…
In retail, wholesale and industry, purchasing is often centralised for the company as a whole. Standard contracts are developed but unfortunately, a central hub is often missing, where all contracts and intermediate agreements are safeguarded, monitored and invoiced. And so expiration dates and cancellation periods are sometimes overlooked. This results in substantial risk and in missed savings during renegotiations. There are two key factors that can remedy this situation. First of all, awareness among buyers that their agreements are valuable and should be monitored by the organisation. But also a strong system that provides good management information without bureaucracy. Together, the process and the system can bring about improvement.
… conditions are quite another!
Of course there are organisations that have their contract management under control. What tends to be lacking however, is effective spend analysis and calculation of amounts receivable from suppliers. Such amounts are derived from conditions, such as (growth) bonuses, media contributions, logistics efficiency and payment discounts. There is no standard contract management system to support all aspects of this income, despite this possibly involving many millions each year. Some organisations have therefore invested huge sums of money in order to develop their own solution.
GRIP fills this gap in the market
AXI and Recentes have worked together to develop the standard GRIP package. Accessible and intuitive software for the registration of supplier contracts and conditions. Not bound by a specific ERP environment. Spend is input and analysed, and the current value of conditions calculated. Invoicing proposals are created, but also prognoses and annual settlement accounts. Wizards support users to make the package extremely user-friendly. Spend and income can be analysed using various dimensions such as over a period of time, by supplier or by category. This makes it very easy to monitor whether the next bonus discount scale is within reach.
Steps forward
This package is a huge step forward for controllers and buyers alike. Less missed income, more grip and more control. Reduced risks in case of personnel turnover. It becomes clear to suppliers that leaky contracts will not be tolerated. AXI and Recentes already foresee a future expansion of the GRIP functions. AXI guarantees state-of-the-art development, while Recentes contributes practical experience. GRIP is a package with future potential!
If you'd like to know more about GRIP, please contact Mike Snepvangers of AXI (mike_snepvangers@axi.nl or +31 (0)6-22423194) or Gerrit Eikenaar of Recentes (gerrit.eikenaar@recentes.nl or +31 (0)6-54288062).
Wanted: junior controller or analyst for a unique career
Recentes is looking for reinforcements! Our team desperately needs to grow; there is so much work to be done! Fantastic projects in which we improve the results and control of our clients.
Are you the junior controller or analyst who's ready to take a second or third step but you're unwilling to follow the predictable career path? This is your opportunity.
Together with your team, you move silently yet efficiently through the organisation. Unearthing information, making keen analyses and communicating flexibly; both internally and with suppliers. Inventive. Committed to the client's interests. Not (simply) advising but making things happen!
Projects such as ours are not commonly found. You'll sometimes need to improvise, survival course style. Nothing is predictable. You're opting for a controlling adventure, where you'll never stop learning.
Satisfied Recentes clients include Royal FrieslandCampina, Maxeda DIY, Blokker, C1000, Jumbo, Intratuin, Wehkamp, Big Bazar, NS Stations, PartsPoint, Plus, DA/DIO and others.
GRIP: smart software for conditions management
GRIP: smart software for conditions management. Here it comes…
Recentes and AXI are jointly developing modern and innovative software for supplier conditions: GRIP. Partspoint Group (AD Nederland, Brezan and Staadegaard TC) is the first user.
This is what procurement managers and controllers have been waiting for! Finally taking control of bonuses, media contributions, growth scales and other revenue.
This package is extremely advanced yet at the same time ultimately user friendly. The complexity of supplier contracts and conditions is simplified using wizards and flexible reporting.
All kinds of conditions can be calculated, also retrospectively. Prognoses and annual settlement. Annual contracts and loose agreements. Invoicing proposals and multi-year comparisons. Detailed spend analyses.
Controllers, managers, buyers are assigned their own roles and authorities. Data are gathered using XML from source systems; always the latest figures!
Feel like a demo? We're ready and willing!
Call us for an appointment or documentation +31 (0)6 49614231