'In recent years, most organisations have made considerable progress in the automation of processes, such as P-to-P, e-invoicing and EDI messaging. However, the way in which organisations register their supplier contracts often lags behind. They often also lack insight into the agreements based on these supplier contracts.'
This is the introduction by Gerrit Eikenaar for his article 'Actually achieving agreed conditions, is that your top priority too?' written for CM Magazine (edition 5). The article includes four tips with which to safeguard a robust process and the six steps of a recovery project.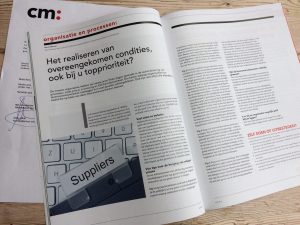 The article includes an interview with Dirk van der Werff, business control director at Maxeda DIY Group, one of Recentes' recovery clients. Dirk was interviewed by Anja Jalink, editor-in-chief of CM Magazine: he gives his view of our project and outlines the benefits for Maxeda DIY.
Are you interested in the article? You can read it here
If, after reading the article, you would like to meet with Recentes to exchange ideas on your supplier contracts and conditions, feel free to contact us. We'll be pleased to discuss the ins and outs of these processes within your organisation with you.